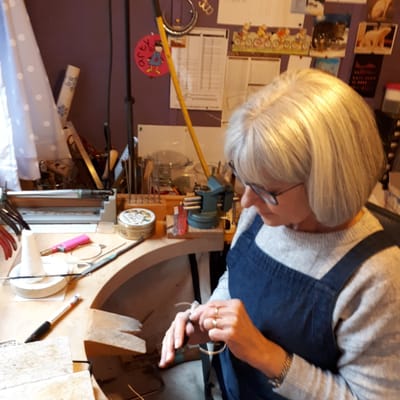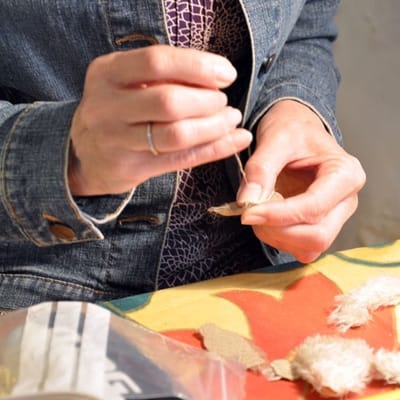 Janis Presbury Designs is run by me, Janis Waldron, from my home studio between the historic city of Worcester and the beautiful Malvern Hills.
My twin passions are making jewellery and miniature teddy bears and rabbits, entirely by hand.
I began making jewellery over forty years ago and have studied at Nottingham Art School, and Hereford College of Arts where I gained City and Guilds (with distinction) and Open College Network qualifications in silver-smithing. I also attended the Birmingham School of Jewellery where I gained a passion for pearls and trained to advanced level in pearl threading and knotting.
Whilst I particularly enjoy making chains in silver, my range includes a variety of other items, from charms to spoons, and from etched copper brooches to animal pictures also in copper. Some of my jewellery incorporates semi-precious stones. I also seek out beautiful and unusual semi-precious beads and pearls, making them into desirable necklaces.
Alongside my jewellery I make miniature teddy bears, rabbits and occasionally mice, using a range of fabrics: mohair, plush and felt. Some of them even sport hand crafted or knitted accessories, anything from tiny rulers and pencils to duffel coats and scarves! I design my own patterns; in this I am influenced by traditional bears, but I delight in giving my animals individual expressions and characters.
As for what inspires me…I have a butterfly mind and love detail. I am interested in and inspired by so many things: from museum artefacts to careless doodles, from an interesting stone to a leaf or from a random word or idea, I am driven to make!
You can see my work at:Herefordshire Guild of Craftsmen
exhibitions, and
https://www.herefordcraftguild.org.uk
Worcester Cathedral shopEtsy shop https://www.etsy.com/uk/shop/JanisPresburyDesigns
Follow me on
instagram @janiswaldron